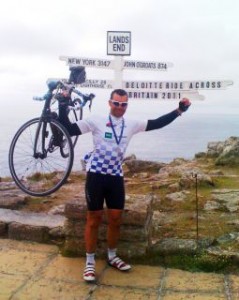 On June 11th 2011, Rob begins to cycles his JOGLE over 9 days.
Rob had testicular cancer 3 years ago, following an operation to remove a testicle and chemo, he is all clear. Now he is on a year long mission to raise awareness and has been going into schools to talk about TC and will finish this year with the ride.
http://www.1000miles2wheels.co.uk
June 11th 2011 saw me cycle from John O'Groats to Land's End. This was the hardest challenge of my life. With cycling over 100miles a day, sleeping in tent and the hills, wind and rain, meant this was both physically and mentaly tiring.
I have raised over £6000 for ORCHID, and a big thank you must go to all my patientas and staff at The BMI Chaucer Hospital in Canterbury, and the companies who have supported me