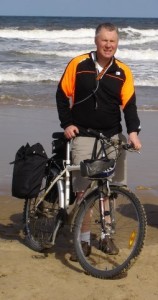 Tony Crosby's blog for his LEJOG 15th – 26th April 2011
Tony says ……..
A good friend suggested that I should run a blog on my forthcoming planned Lands End to John O'Groats cycle ride (LEJOG) in April 2011.  I've never written anything on a blog before so I thought I should try it out before setting off on my cycle ride on April 15th.   I was going to simply update my wall on Facebook each evening, subject to wifi being available in remote locations, so that may still be the fall back position if I can't connect to this website "on the road".
LEJOG appeals to me for several reasons….. I don't feel I know this country that I live in, when you are driving anywhere you cannot admire the scenery if you are staring at red brake lights in front of you on a motorway and I've never been further north than Dundee nor have I been to Devon and Cornwall.  I'm hoping this 12 to 15 mph pedal will help me get a feel for areas I've never visited before.   Plus the challenge of riding from one end to the other is something I would like to achieve before I'm too old….is 55 too old already?  I guess I'll find out next month!  Added to those two reasons, I hope by drinking lots of water along the way and a diet of bananas and other fruit, I'll drop some weight off!  After all I'll not be within 8 feet of a fridge 24/7 !!  Finally, I would like to raise money for Arthritis Research.  My father had this debilitating illness for the last 30 years of his life and he suffered badly.  I guess its not as popular with the public as those charities for children or animals but I have done several rides for Children's charities in the past and will do more in the future.
http://tc-does-lejog.blogspot.co.uk/search?updated-max=2011-04-18T20:14:00%2B01:00&max-results=14&start=14&by-date=false