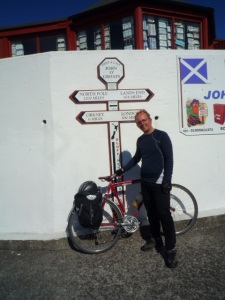 Martin Leycock's LEJOG site including details on the LEJOG and training routes. Thanks for the mention Martin.
Only a few weeks ago I did not know what LEJOG stood for…. Lands End to John O'Groats. There is also JOGLE, so no prizes for what that one means.
LEJOG is attempeted by loads of cyclists each year and in June 2011 I am going to attempt it.
There are loads of routes but in short my LEJOG is 1000+ miles covered in two weeks. This works out at around 70 miles per day which in LEJOG terms is quite relaxed. I am 50 this year and I suppose it is my attempt at having a mid life crisis. I am a 'reasonably' strong cyclist but I have never been more than 70 miles in a day before and certainly never on back to back days without a break. Only four weeks to go and I need more training!