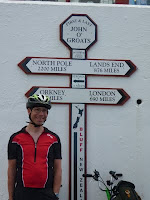 Garry's LEJOG completed in September 2009 on a Brompton on a Brompton
The planned route is heavily based on the Cycle Touring Club's "official" B&B route, which is a very scenic but somewhat hilly route. I've made some modifications to the CTC route; the main differences are in the south-west (where I'll sometimes be following National Cycle Network route 3) and in Scotland (where NCN routes 77 & 7 will be used to avoid the busy A9).
The total length of the route is 1003 miles, which I'll be doing over the course of 18 days. The planned daily mileage varies a bit, but averages at around 60 miles, with the longest days being limited to 70 miles.
http://garryslejog.blogspot.co.uk/2009/08/route.html