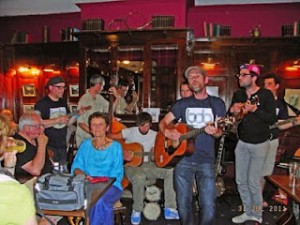 Brian, Dan, Dave, Dom, Jonny, Neil and Warren are taking a trip of a lifetime to raise money for Cancer Research.
During July and August we'll be cycling from Land's End to John O' Groats, but to add to the challenge (and the fun, we hope) we'll be playing gigs along the way.
Before this year, we'd never even met, let alone played music or cycled together – some of us didn't even own bikes.
So you can see what a challenge this is – one we think is worth sponsoring! Thank you in advance for your contribution, it's massively appreciated.
You can find out more about our route, keep up to date with how training and rehearsals are going and find out how you can get involved on our website and blog: