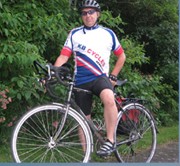 50 year old Nigel Bradley from Newcastle does LEJOG unsupported in 9 days, 1.5hrs in August 2011.
Going to attempt LeJog on my own on my heavyweight 34lbs) tourer (Dawes Ultra Galaxy), self supported, utilising B&B's in August 2011.
So that'll be approx 100 miles/day and 31,700ft climbing (Everest = 29,600ft)
Nigel says
"Best experience of my life".
http://nigellejog.wordpress.com