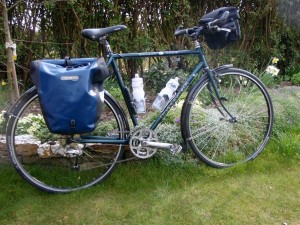 The description is Barbara's not mine and she is gearing up to start the ride on the 27th April 2013.
As she explains…
'The basic ideas were sorted out.  There were two cyclists – Steve and the oldbat.  We had known each other for a year or so and had cycled a few thousand miles together. We were pretty sure we are compatible on and off the bike.
My bike is an old Dawes Galaxy with the standard Deore group set.  A few weeks before the start date I have it refurbished by my friend Toby Willcocks.www.facebook.com/PedalsPaddles.  Toby replaces the tyres, bottom bracket, cassette, chain, some cables and brake blocks. Everything else has been checked and deemed fit for purpose.  The new tyres are Schwalbe Durano 25mm. My bike has mud guards, a rear pannier rack and a front box. It has lights, 2 bottle cages, a small pump, and a mount for my Garmin Edge 800.  It has straight handlebars with Ergon grips.  I quite like it but it is rather heavy.  I will be keeping the weight in the panniers down to a minimum.
We are going on Friday 27th April. Bottom to top so hopefully we will have the prevailing south-westerly wind behind us.  Post snow – pre midge.  The accommodation is already booked.  This is quite easily done online. We are staying in Hostels, a Travelodge in Tiverton and Preston, and with friends.  The train reservation from Wick to Inverness for ourselves and the bikes was made on the day the bookings opened on 22nd February. The Easy jet flight from Inverness to Bristol is booked for Tuesday 14th May.'
http://oldbatonabike.wordpress.com/category/lejog/