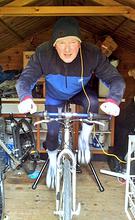 Steve O'Sullivan does like a challenge! His site includes a lot of information including detailed MapMyRide route maps of his JOGLE planned for 2014 via Edinburgh.
http://www.stevesjogle2014.co.uk/
Steve will start at John O'Groats and travel to Edinburgh (which will take him 5 days) via Inverness and Crieff. Before departing Edinburgh, the next stage of his Jogle will begin with a ride down The Royal Mile from Edinburgh Castle Esplanade. His route will take him to his very first school. 
His departure from his city of birth will be complete as he leaves the outskirts and continues his end-to-end ride as he heads towards Moffat. Continuing his journey south Steve will be stopping off in Penrith and Settle before riding through Wigan where he will meet up with the Joining Jack charity.
From there he will travel to Ironbridge to cycle across the iconic cast iron bridge built by Abraham Darby 111. Steve will cross into Herefordshire and spend the night in Ross-on-Wye before heading to the famous Cheddar Gorge. The next day sees Steve head to Witheridge and the prospect of 2 more days cycling will bring him to Land's End and the final point of his journey!
Steve's main challenge is keeping his heart rate below 112 beats per minute – not an easy task! He has to do this as his heart was damaged as a result of his heart attack.On the advice of his medical team, he now trains with a heart-rate monitor to ensure he is not putting undue stress on his heart.  Steve is very aware that he would not be able to even contemplate taking on a brief cycle ride, let alone the demands of the End-to-End JOGLE if it wasn't for the excellent care he received on Tuesday 2nd August 2011.
Suffering a life-threatening event hasn't stopped him pursuing his sporting activities. On 4th August 2012, just over a year after his heart attack, Steve completed his local 5k parkrun at Banstead Woods with his wife and family.
His next big challenge is a  JOGLE cycle ride of nearly 1000 miles in 15 days. He wants to raise a substantial amount for two fantastic charities – read more about The JOGLE here
Good luck Steve!