I have refreshed my website and would welcome any comments you have on whether it works or not, and any ideas to make it better. The old site is still live for those of you who have grown to love and cuddle it although I am not updating it anymore. You can find it at 
http://www.alanpewsey.webspace.virginmedia.com/
 So much information and don't know where to start? To help you navigate your way through the information on the site I have a created our LEJOG STORY (see menu above) which will take you through our trip from the planning and choosing a route, all the way to our arrival at John O'Groats. The Day by Day Blog (under the 'Our Story' menu) for each day includes a diary, tips on food and the daily route, height profile, map and directions (bear in mind these were put together in 2003!). Hopefully my LEJOG blog will not only give you a bit of a giggle but also be useful as well
All information on this site is available free of charge and I am very happy for you to use and share as you wish although an acknowledgement or even a link to my site would be really appreciated. If you feel my help has been worth a donation then please consider supporting my chosen charity, The Dartmoor Search & Rescue Team. The charity is entirely run by volunteers and is on call 24×7 to support the Police with search & rescue across Devon including Dartmoor. They don't just search for missing walkers but also more frequently these days missing persons suffering from dementia. You can donate HERE
They provide a superb service and your donation would be both most welcome and really appreciated. Thank you, Al.:-)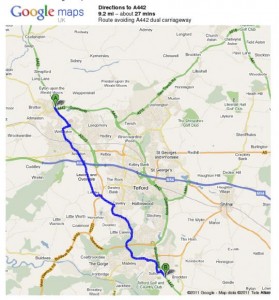 Telford A442 Please avoid after LEJOG fatality in 2010. In the summer 2010 there was a fatality when a cyclist participating in a LEJOG sponsored ride was hit by a car whilst travelling on the A442 dual carriageway around Telford. The dual carriageway can be avoided by following the route of what was the A442 of 40 yrs ago. No local cyclists would entertain the prospect of cycling on A442 dual carriageway, it's cyclist that don't know any different who need to be informed of the dangers. The alternate route is shown to the left with full map & instructions HERE.
Thanks to Geoff Shinner, Sustrans Liaison Ranger at Telford & Wrekin  for getting in touch with the alternative route & instructions
Update - The driver, 47-year-old Stuart Cook from Bromsgrove, Worcestershire was found guilty of causing death by dangerous driving.
My List of LEJOG and JOGLE Links
I have now added a list of links to other LEJOG websites. This has continued the great work that Ian started as it appears he is no longer updating his list of 'Ultimate LEJOG Links'. I have cleaned up Ian's list and its included HERE
Daily Route Map and GPS Waypoints
View detailed maps day by day, or the complete route, HERE! The route is also available in a format you can download to your GPS.
HIGHLIGHTED NEWS
The news items below are random items pulled from the increasing number on the site.
---
248: 1074 miles in a leisurely 20 days
by admin - 04-17-2013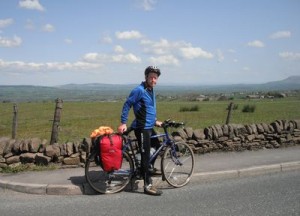 In the spring of 2010 Alan got on his bike and cycled the length of the British mainland, riding 1074 miles in all, from Lands End and finishing at John O' Groats via Lizard Point. As Alan says: 'You can do it in less time and distance than I took but I chose to wander about a bit, taking in the most southerly point (the Lizard), the most northerly point (Dunnet Head), and the most north-easterly point (Duncansby Head) for the sake of completeness. Well I had the time and the inclination and it felt good to do things properly.' This is how I did it...
http://www.munrover.co.uk/Lejog/
---
Would you like to be part of the fastest fully supported end to end LEJOG?
by admin - 01-08-2013

Would you like to be part of the fastest charity fully supported end to end, LEJOG? This year we have limited spaces for you to be part of this ultimate challenge. Now in its 11
th
year, raising vital funds for the BSTrust, we set the stakes high, riding the race in only 6 days. In 2003 Ciaran Doran created The Race Against Time – an endurance cycle ride from Lands End in the south west of England to John O'Groats in the north east of Scotland covering the 874 miles in just 5 days. The name of the ride is inspired by another race against time – the race to lower the rate at which new HIV infections occur in South Africa, and to help people already living with HIV–AIDS and their families. Ciaran raised over £14,000 for HIV–AIDS work by successfully completing the race in just over 50 hours – leaving Lands End at 6.30am on the 14th June and arriving in John O'Groats on the 18th June at 10.03pm. The money Ciaran raised went directly to projects supported by the Bishop Simeon Trust. The Trust works to alleviate the impact of HIV–AIDS on the poorest people in South Africa by funding education and care projects with local initiatives. The ride has been repeated every year since 2005, with teams of around 10 cyclists, and is now an established event in our calendar. To date over £150,000 has been raised for the Bishop Simeon Trust through 
The Race Against Time
.

The advantages of riding with us:
- our wealth of experience - veteran riders are there to encourage new LEJOG riders - fully supported race, accommodation, food, training rides, training schedules are all provided – you just do the cycling So why not join us this summer;
23-28th June 2013
for the ultimate LEJOG. As a small charity, we know exactly where the money you raise goes and can provide you with up to date feedback of how you have helped to make a difference. To find out more visit our dedicated website: 
www.theraceagainsttime.com
or follow the links from our main website
www.bstrust.org
to find out more.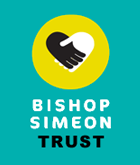 ---
Have you got what it takes?
by admin - 11-23-2012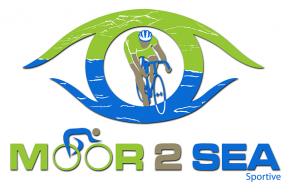 Following a successful 'sell-out' launch in 2012, the Moor 2 Sea Sportive will be returning to Exeter Racecourse on Saturday 7th September 2013. This awesome event offers you a choice of two routes: The 'Challenge Ride' which is 67 miles (108 km) with approximately 7,400 ft of climb, and the 'Extreme Ride' which is 112 miles (180 km) and has a gruelling 12,000 ft of climb, including gradients up to 25%. Both routes conclude with a 'King of the Mountains' timed hill stage, providing you with a further gruelling 'challenge within a challenge'. With riders from the inaugural event discovering just how relentless South Devon's terrain can be, the Moor 2 Sea has quickly gained a reputation for being one of the toughest in the UK. So, have you got what it takes? Online entry open on December 1st and as a Pre-Christmas Special, Just Events Ltd are offering a £6.00 discount off the standard entry fee for everyone who registers before December 25th Places are limited to 1000 so early registration is recommended. To register or get further information please click on the Moor2Sea logo above.
---
247: Norry and Noz ride LEJOG 2011
by admin - 10-23-2012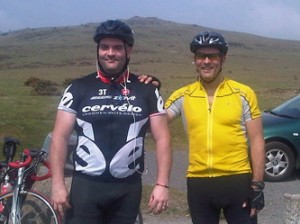 Thanks to Dave Barter for forwarding the link for this site. This site records how Martin and Ian Norris prepared for and complete the classic cycling trip of Land's End to John O'Groats in April / May 2011.  As well as  meeting the physical and mental challenge of the trip, they raised a decent sum of money for the Teenage Cancer Trust  charity Both Norry and Noz only started cycling seriously in 2010 and found that they both wanted to take on the Land's End to John O'Groats challenge. Preparing for the trip was key, and something which was harder for Ian due to an arrival of his third child, the lovely Milly.  They left Land's End on Friday 22nd April 2011 averaging around 70 miles cycling per day - a total distance of just over 1,000 miles.  They climbed over 33,000 feet in that time, which is 6.3 miles and higher than Mt. Everest.
http://norrybroslejog.weebly.com
Their route is based around that described Simon Brown's Cicerone guide book. This follows more country roads than main roads and whilst it is a longer distance, is much more pleasant.
---
National Cycle Network Smartphone App
by admin - 09-04-2012
News from Sustrans is that the new Android app is now available to download from the Android Market.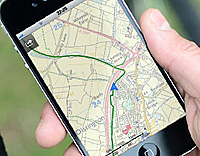 Sustrans has now the released 'The complete National Cycle Network' app with which you can access over 25,000 miles of walking and cycling network across the UK, anytime anywhere. The free app is available to download from Android Market and the iTunes store and marks the first time the National Cycle Network has become available for mobile phones. Sustrans has created the app from their OS based online mapping facility and it has been specifically designed to help people make more of their everyday journeys on foot or by bike.
Download from the Android market:
The Complete National Cycle Network
.
Download from the iTunes store:
The Complete National Cycle Network
.
What the app offers
It includes 25,000 miles of route - including all 13,000 miles of award winning National Cycle Network and a further 12,000 miles of regional and local routes and links. Whether it is for picking your way through an urban metropolis to work, winding through the countryside for leisure, finding a traffic-free route to school, a challenging bike ride or a fun family day out, 'The Complete National Cycle Network' app has something for everyone. You can read the original Sustrans article that the above was taken from
here
---