I first began a LEJOG themed site in 2003 to assist anybody thinking of undertaking the journey following my own LEJOG. At the time online resources were scarce so I decided to create a site to help others with information I wish I'd known before I undertook my own journey. It wasn't about making money, just providing access to information free of charge to anybody that needed help. Moving forward to 2016 and there are now loads of sites and resources dedicated to helping people cycle the end2end. So the time has come for me to hang up my LEJOG website hat and allow those much better at web design than me to continue the tradition of helping others undertake what is still a fabulous journey.
The site shall remain online for the forseeable future but I will be no longer updating it. So thanks for the support and I hope some of you found it useful.
Ta-ta
Al
May 2016
So much information and don't know where to start? To help you navigate your way through the information on the site I have a created our LEJOG STORY (see menu above) which will take you through our trip from the planning and choosing a route, all the way to our arrival at John O'Groats. The Day by Day Blog (under the 'Our Story' menu) for each day includes a diary, tips on food and the daily route, height profile, map and directions (bear in mind these were put together in 2003!). Hopefully my LEJOG blog will not only give you a bit of a giggle but also be useful as well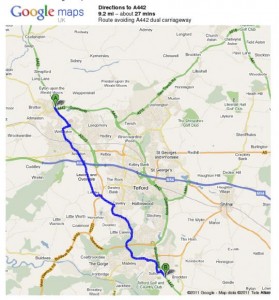 Telford A442 Please avoid after LEJOG fatality in 2010. In the summer 2010 there was a fatality when a cyclist participating in a LEJOG sponsored ride was hit by a car whilst travelling on the A442 dual carriageway around Telford. The dual carriageway can be avoided by following the route of what was the A442 of 40 yrs ago. No local cyclists would entertain the prospect of cycling on A442 dual carriageway, it's cyclist that don't know any different who need to be informed of the dangers. The alternate route is shown to the left with full map & instructions HERE.
Thanks to Geoff Shinner, Sustrans Liaison Ranger at Telford & Wrekin  for getting in touch with the alternative route & instructions
Update – The driver, 47-year-old Stuart Cook from Bromsgrove, Worcestershire was found guilty of causing death by dangerous driving.