News from Sustrans is that the new Android app is now available to download from the Android Market.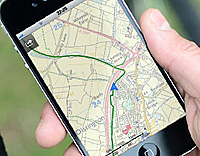 Sustrans has now the released 'The complete National Cycle Network' app with which you can access over 25,000 miles of walking and cycling network across the UK, anytime anywhere. The free app is available to download from Android Market and the iTunes store and marks the first time the National Cycle Network has become available for mobile phones. Sustrans has created the app from their OS based online mapping facility and it has been specifically designed to help people make more of their everyday journeys on foot or by bike.
Download from the Android market: The Complete National Cycle Network.
Download from the iTunes store: The Complete National Cycle Network.
What the app offers
It includes 25,000 miles of route – including all 13,000 miles of award winning National Cycle Network and a further 12,000 miles of regional and local routes and links. Whether it is for picking your way through an urban metropolis to work, winding through the countryside for leisure, finding a traffic-free route to school, a challenging bike ride or a fun family day out, 'The Complete National Cycle Network' app has something for everyone.
You can read the original Sustrans article that the above was taken from here