Day 6 – 

Bridges YH

 to Chester YHA* – 58 miles
* Please note Chester YHA is now CLOSED unfortunately.
(Backwards to Day 5 or Forwards to Day 7)
LEJOG DAY 6 – Diary and Top Tips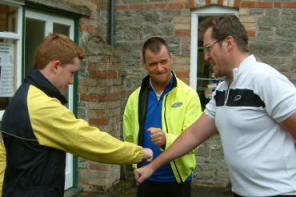 Started the day with our usual game of "Spoof" to see who would have the honour of wearing the "Yellow Thong".  Short day over fairly flat terrain so no real problems ………. until we got to Chester. Up off the saddle to take my momentum over a small climb and I felt a sharp pain behind my knee that felt like a muscle tear. From that moment on as soon as we came to any slight incline I felt the discomfort. This was worrying. Bike problems can be overcome by handing money over the counter of a bike shop but body breakage's take time and treatment to heal.
We arrived early at around 2:30pm, dropped our kit at Youth Hostel then headed off to the bike shop to get some running bike repairs, and me to Boots to try and get my body repaired. We got about 200m down the road and there was a massive BANG! It seems that Mark's rear tyre must have had a split in the side with the tube poking out through which touched something sharp causing a total blow-out – lucky it happened here! Keith and I got our spokes retensioned at a really friendly and efficient bike shop called "The Bike Factory" (www.the-bike-factory.co.uk) .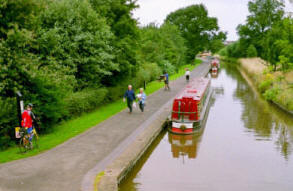 The staff were really interested in what we were doing and only charged £5 each for doing the spokes and we were all done and dusted in 20 minutes! That's the bike covered now for my body. A knee support and some Ibuprofen gel recommended and purchased and back to the Hostel.
We decided to eat in the Hostel that evening which went a long way towards confirming our poor experience of hostel food. Also confirmed was in these larger hostels, staff and cooks appear to find the members a bit of an inconvenience.
The Hostel cycle store didn't give us much confidence from the security point of view so as we were billeted into the annexe, we kept the bikes in the room. If may be worth requesting the annexe as a precaution in advance in case you feel the bike store is vulnerable.
TOP TIPS!
Food – Didn't really stop for any food stops today as we were in Chester by early afternoon and eat in town. We did make the mistake of trying the YHA food and would recommend both from a taste, volume and customer service point of view to eat out!
The Route – Pretty easy today and the route was not bad either from a traffic point of view. Chester however was incredibly busy, lots of traffic and one way systems.
Climbing Profile

Statistics
| | | | | | |
| --- | --- | --- | --- | --- | --- |
| From | To | Day Distance (Miles) | Running Total (Miles) | Height climbed (Metres) | Height descended (Metres) |
| Bridges YH | Chester YH | 58 | 419 | 607 | 848 |

Detailed Route Map
Directions
The approximate route we followed for Day 6 is listed below (1:50 000).
I used the Memory Map 1:50 000 Ordnance Survey electronic maps for route planning. Note: – Don't however buy their Adventurer GPS units as they are rubbish in my opinion.
L out of YHA, past pub and continue on lane from yesterday up hill towards Stitt Farms where L fork to Westcott, Habberley and into Pontesbury. Carry on lane to Hinton, Lea, crossing B4386 at Nox. Pass Shoot Hill and R on A458 where next L on B4473, and L on B4380 to Montford Bridge.
Follow lane to Nib Heath, R before Little Ness to Baschurch. Continue along lane to Bagley turning R at Lower Hordley to Lee and Ellesmere.
After Ellesmere follow A528 to Overton and B5069 to Bangor-on-Dee. L on A525 to Cross Lanes where R onto B5130 to Earndon.
Take L onto B5102 and R on lane to Trevalyn. Turn R on to B5445 and at roundabout turn R onto A483 into Chester