Day 5 – Kilpeck to 

Bridges YH

 – 60 miles
(Backwards to Day 4 or Forwards to Day 6)
LEJOG DAY 5 – Diary and Top Tips
This was our first completely (just!) dry day. Today's route took us across the Welsh/English border several times and was relatively flat, and therefore easy compared with the first 2 days. Our first challenge was to find our way over the River Wye as the bridge on the planned route was apparently completely closed due to roadworks. A slight detour overcame that problem and we headed North. The countryside was beautiful and we felt good. Bodies were coping well apart from a slight muscle strain behind my knee, nothing to worry about. Only bike problems today were Tom with a puncture. Arrived at Bridges YHA, photo below, (only one other family staying there but we never saw or heard them), time for a hot shower, change of clothes and a good meal and beer or two at the excellent village pub.
TOP TIPS!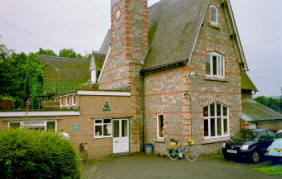 Food – We stopped in the small general store for bananas etc at Kingstone. Lunch was at a superb cycle friendly café in the centre of Presteigne. Owned I think by a lady of Colombian origin they served up a superb Colombian originated snack based on scrambled eggs with tomatoes, onion, and herbs on toast.
Added to baked beans, rocket fuel for cyclists! Our evening meal was at the village pub in Bridges. This can only be described as superb pub food with lots of it. Highly recommended.
The Route – The route was varied but mostly very quiet and away from cars. It was easy relatively flat terrain apart from a final gentle climb to Bridges YHA (pictured). Certainly we would choose the same route again.
Climbing Profile

Statistics

| | | | | | |
| --- | --- | --- | --- | --- | --- |
| From | To | Day Distance (Miles) | Running Total (Miles) | Height climbed (Metres) | Height descended (Metres) |
| Kilpeck | Bridges YHA | 60 | 361 | 1075 | 927 |
Detailed Route Map
Directions
The approximate route we followed for Day 5 is listed below (1:50 000).
I used the Memory Map 1:50 000 Ordnance Survey electronic maps for route planning. Note: – Don't however buy their Adventurer GPS units as they are rubbish in my opinion.
Leave Kilpeck, cross the railway line and join the A465 at Bores Hill Farm where R. Follow A465 until L onto B4348 to Thruxton and Kingstone. At junction with B4349, take lane to Brampton joining B4352 at Tyberton. Follow B4352 to Bredwardine where R on lane over River Wye, and first L to Letton.
Join A438 and take first lane R to Waterloo, Kinnersley, Almeley, Holme Marsh and Lyonshall. R on to A44 and first L on lane to Nextend, Burcher and B4355 to Presteigne.
After Presteigne follow lane parallel and alongside River Lugg to Lower and Upper Kinsham. Follow lane North passing through Lingen. Turn L on to A4113 and R onto B4367 to Purslow. Take lane straight onto Kempton and L on ton B4385
Turn off B4385 at Five Turnings, past Eyton and L onto A489. Turn off R at Eaton onto lane to Wentnor and Bridges YHA.