(Backwards to Day 7 or Forwards to Day 9)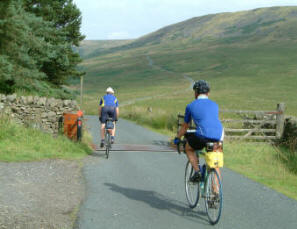 What a difference a day makes!
After "bonking" all yesterday afternoon, 10+ hours of sleep helped to get our energy levels back on track. After the rainy start to our LEJOG trip, the weather was definitely on the up with no rain at all yesterday and rumours of a heat wave on its way.
While having breakfast at the YHA we got chatting to a couple of guys on a tandem cycling John O'Groats to Lands End averaging about a 100 miles a day. They had a few problems the previous day and didn't get to the YHA until 11:15pm. It was a sunny morning and as we had breakfast outside watching them getting ready to set-off one of them had a generous application of white cream to his nose. We figured that if he was riding "up front" it was probably sun-block but if was riding on the rear then it may have been Sudacrem when perhaps he lost concentration and got a bit low on his handlebars!!
Leaving Slaidburn the road continues relentlessly uphill for several miles, followed by a long fast decent into Kirby Lonsdale for a tea stop. Only to rise again over Shap before dropping into Penrith and onwards to Carlisle.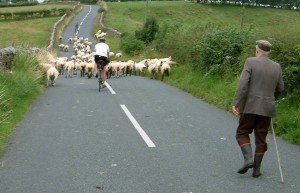 On paper this was one of the harder days but we all coped well. Plenty of big hills for the first35 miles and fantastic scenery as we came through the Cumbrian Mountains with views right across to the Yorkshire Dales and the Lake District. Steady climbs as we smugly passed cycle tourists loaded down with the kitchen sink, and thrilling rapid descents. The route proved also to be very quite, unlike the routes that pass through the Lake District National Park.
Carlisle YHA is actually in the University Halls and judging by the regular Police sirens probably not the most desirable part of the city. We had a bad feeling about the YHA bike store so decided to take our bikes to our bedrooms for safe keeping and the opportunity to check them over. This is when Mark discovered his rear wheel rim was cracking and I found a small hole in the wall of my tyre big enough for the inner tube to bubble through. Although we were in a city it was now 8:30pm on a Saturday night and all the bike shops were closed! Captain Bodge (Keith) to the rescue with some "liquid metal" for Mark and a tyre patch for me. This we hoped would get us through Sunday and the 100 miles to the next town likely to have a bike shop – Ayr.
Tom's back tyre (fitted new at Exeter) had completely worn out and started to distort and bulge slightly so swapped-out with a spare he'd been carrying.
Mark, Keith and I re-lived our BT apprentice days treating ourselves to a Chinese takeaway in our student flat. Spirits were high as we were not only over half way in distance and time, but also tomorrow morning we'd cross the border into Scotland!
TOP TIPS!
Food – We found very good tea shops and cafes in Kirby Lonsdale and Penrith without too many problems. You are spoilt for choice in both towns.
The Route – Carlisle YH is not that easy to find as the signposts are more or less non-existent. The YHA is actually the University Halls and presumably only a YHA during the University holidays and is on the West side of the Bridge right next to the river. The reception is on the ground floor of one of the hall blocks and is in the middle as opposed to being by the roadside. The best way to find it is to come over the Bridge and take the first R opposite the traffic lights on a minor road that follows alongside the halls and then take the first right into the complex and the reception will be roughly in front of you in the building in the middle of a small courtyard / garden.
We did have a backup plan using B roads to get us into Carlisle if the A6 was busy. But considering we were travelling along it on the 2nd Saturday of the Summer School holidays it wasn't busy at all and we stayed on it all the way to Carlisle and would happily use it again. In fact all the A roads we used today we not that busy at all and we all enjoyed the route very much. Even the hills were enjoyable!
Climbing Profile

 Statistics
| | | | | | |
| --- | --- | --- | --- | --- | --- |
| From | To | Day Distance (Miles) | Running Total (Miles) | Height climbed (Metres) | Height descended (Metres) |
| Slaidburn YH | Carlisle YH | 78 | 582 | 2027 | 2158 |
Detailed Route Map
Directions
The approximate route we followed for Day 8 is listed below (1:50 000).
I used the Memory Map 1:50 000 Ordnance Survey electronic maps for route planning. Note: – Don't however buy their Adventurer GPS units as they are rubbish in my opinion.
Turn R out of the YH past the pub and down a short hill where L onto lane and out of village and begin to climb on to the fells. Follow lane up over apex at 1400 feet and drop down into High Bentham. Take R and quick L across B6480 in the centre of High Bentham and carry on North to Burton-in-Lonsdale. Follow lane North and join A65 near Ireby where L along A65 to Kirby Lonsdale, nice small town with plenty of good tea shops.
Out of Kirby Lonsdale join A683 North and turn L onto B6256 just South of Sedbergh. Turn R onto A684 and L onto B6257 past Beckfoot where steep uphill under M6 and R on to A685.
Follow A685 until just before it crosses M6 where L on lane past Roundthwaite to Greenholme where R on lane over both carriageways of M6 and L on B626 until it joins the A6 where R towards Shap. Follow A6 North past Penrith all the way to Carlisle. See directions in Tips above.