Day to Day Blog
Day 2 – Golant YHA to Exeter – 76 miles  
(Backwards to Day 1 or Forwards to Day 3)
We stayed with family in Exeter. But there is a Youth Hostel. Exeter YHA
LEJOG DAY 2 Diary and Top Tips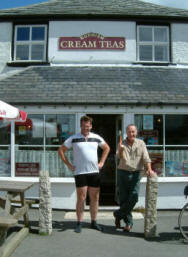 Today we followed Mark's own devised part of our LEJOG route. This avoided the major climb over the centre of Dartmoor, cutting instead between Bodmin Moor and Dartmoor via Minions, Horsebridge and the famous landmark of Brent Tor. (click here for an image) This unique 12th century church is built high on a volcanic outcrop and dominates the surrounding countryside. The church is dedicated to St. Michael de Rupe. There is also a legend about its construction, which concerns the Devil moving the stones from the bottom of the tor to the top, hoping that the walk would deter churchgoers.
Our LEJOG route progressed without incident thoroughly enjoying the peace and countryside. The western horizon is dominated by the Dartmoor massif and would be very demoralising if you knew later in the day you would have to cycle over it! We however could enjoy the view knowing we were going around it.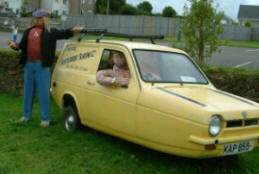 Eventually the route picks up the Granite Way cycle path at Lydford to Okehampton where a couple of colleagues came out on their bikes to ride with us down the old A30 to Keith's house in Exeter. Mark punctured as we made our way through "bandit country" between Devon and Cornwall, but other than that we had a very good day with little rain. For anyone who's done some longish cycle rides you'll know that it's important to keep eating regularly otherwise your energy levels rapidly deteriorate (known as "bonking"). We knew from our training weekend that there were few village shops that would be open on a Sunday along this route, and hence had our food stops and onboard snacks well organised. There are one or two pubs but most are only open for the lunchtime hours.
TOP TIPS!
Food – We had breakfast in the YH but it was poor value for money and the muesli had a very odd but distinctive smell to it! The "Full English Breakfast" was also very disappointing as it was served on a side plate and there was room to spare!! Despite the lack of food shops along the route there are a couple of very well placed refreshment opportunities. Lostwithial has a few small general stores, bakeries etc, that gives you a final opportunity to stock up before heading into rural Cornwall and Devon. There is a very friendly and good café at Minions called "Hurlers Halt" The "Highest Tea Shop in Cornwall", where we stopped for an early lunch. There is also an excellent café in an old railway buffet car at the Okehampton side of the Meldon viaduct on the Granite Way.  Okehampton railway station also serves snacks although I am not sure on opening times
The Route (see maps & directions below) – The route was superb and highly recommended. Apart from the A390 stretch from Lostwithiel, the rest of the route is incredibly quiet picking its way through rural Cornwall and Devon at its very best. It has the huge advantage of avoiding the busy tourist route and climb over the centre of Dartmoor, but you are still blessed with stunning views, and unspoilt countryside and villages. As you are following a predominantly lane route, the inclines can be short and steep in places. This is where you'll be very happy to have the third chainring and a good range of sprockets.
Cycling through Exeter – Exeter has a comprehensive network of cycle paths throughout the city. A copy of the excellent Exeter Cycle Map is available on the Devon County Council website.  http://www.devon.gov.uk/cycling

| | | | | | |
| --- | --- | --- | --- | --- | --- |
| From | To | Day Distance (Miles) | Running Total (Miles) | Height climbed (Metres) | Height descended (Metres) |
| Golant YHA (Fowey) | Exeter | 76 | 145 | 2096 | 2119 |
Detailed Route Map

The approximate route we followed for Day 2 is listed below (1:50 000).
I used the Memory Map 1:50 000 Ordnance Survey electronic maps for route planning. Note: – Don't however buy their Adventurer GPS units as they are rubbish in my opinion.
From YHA return uphill to xroads and turn R on to B3269. Follow B3269 and turn R onto A390.Follow A390 through Lostwithiel, West, Middle and East Taphouse. Take next L after East Taphouse onto B3360. Straight on at xroads with A38 at Doublebois onto lane. Follow lane past Bokenna X, Redgate & Common Moor to Minions.Carry on down hill and cross B3254 at Upton X. pass Rilla Mill, Halwinnick Butts, and turn R onto B3257 to Bray Shop. At Bray Shop take L towards Penpill Farm and Stokes Climsland, and onwards crossing the River Tamar at Horsebridge.
After bridge take L past pub and first R up hill to Sydenham Damerel. Go straight through village and straight on over B3362 to Long X and Brent Tor and in to Lydford. Pass thru village and take L on new cycle path that follows old railway line. Follow signed cycle route to Bridestowe, R in village crossing the A386 at Lake.
Join NCR27 at Lake and follow all the way to Okehampton Station.
At Okehampton Station proceed downhill to centre of Okehampton and R onto B3260.
At junction with A30 carry on through Sticklepath and Whiddon Down to roundabout with A30.
Go straightover roundabout and along lane that follows the A30. Take L immediately after bridge over A30 towards Bowden, where L back over A30 bridge and immediately R again to Cheriton Bishop. Cross A30 at Woodleigh and follow old A30 road through Tedburn St Mary alongside new A30 to Pocombe Bridge just outside Exeter on junction with B3212.
Turn L on B3212 towards Exeter and immediate R towards Ide. Pass Ide to roundabout with A30, straight across and follow main road into Exeter.
Depending on where you stay in Exeter will depend where you go from here. There is an excellent network of cycle paths which is steadily increasing.  The Devon County Council website holds up to date information
The best route to join is the cycle routes that follow the River Exe from the main railway station (St David's in the North) all the way down the river to Topsham and beyond. If you are staying at Exeter YHA, the easiest way is to follow the river canal cycle routes signed posted to the Double Locks pub or Turf Locks. Once you pass the Double Locks, continue South on the cycle route until you come to the main A379 ring road as it crosses the canal. Turn left and follow the off road cycle track alongside the A379 as it crosses the River Exe and take the first turning left by a pedestrian crossing that crosses the main A379. Follow this residential street and after about 400 Metres your find the YHA on the right.