NOTE – Kendoon YH has now closed. However thanks to Dave Barker, who has found bunkhouse accommodation here There are also other B&B and tea shops listed in the Kendoon area on my "Feedback & Recommendations" page.
(Backwards to Day 9 or Forwards to Day 11)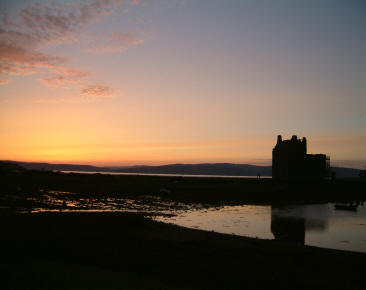 Lochranza Sunset
LEJOG DAY 10 – Diary and Top Tips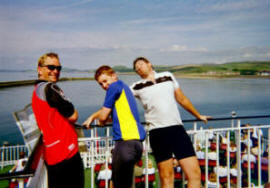 We were on a mission this morning as we needed to find a bike shop to get Mark's rear wheel sorted and a spare tyre for me. We set off at 7am and roller-coastered the 35 miles into Ayr in Tom's slipstream – who was on a roll – in well under 2 hours. We found a bike shop buying a spare tyre for me and doing a deal on a replacement wheel for Mark.
Originally we had been aiming for the 3:15pm ferry at Ardrossen to Arran, but felt we had enough time to get the 12:30. Unfortunately my tyre patch started to give way and a puncture slowed us down so the hammer had to go down for the final 15 miles. Riding flat out (well for us anyway!) at about 20 + mph we started to believe we could make it again until we found ourselves riding over a bridge with no obvious way to join our intended dual carriageway to the ferry port. No time to carry on to the next road junction, we decided to try Cyclecross, dismounted, clambered down the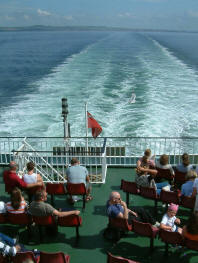 embankment, carried bikes across the busy dual-carriageway, over the armco barrier, across the other carriageway, and back on the saddles again. As we got closer to Ardrossen the time got tighter and tighter. By now we were within the towns built-up area and overtaking most of the traffic. Luckily most of the traffic lights were in our favour and we reached the ferry with 5 minutes to spare – phew!
As we rode off the ferry at Broddick on the Isle of Arran, I immediately discovered another puncture so the new tyre was fitted and a picnic lunch from the supermarket devoured on the beach. From here we had a fantastic 15 mile ride along the coastline, over the mountains and down in to Lochranza. The Isle of Arran is frequently referred to as "Little Scotland" and it is certainly an island blessed with beautiful scenery. The last climb from Sannox over to Lochranza is well worth the effort with stunning mountain views before the freewheel down the other side to the hostel.
TOP TIPS!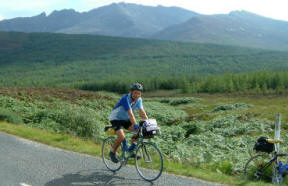 Food – We had breakfast in Ayr whilst we waited for Mark's wheel to be sorted out, and lunch on the beach at Broddick just after we got off the ferry, following a shop at the well stocked supermarket. We also brought provisions here for tonight's meal and tomorrows breakfast as we had no idea what the hostel and Lochranza had to offer in the food department. As it happened a small general store was open in Lochranza and the hostel had a reasonably stocked shop that we could have raided if needed.
The Route – A good route today although we would have chosen a route through a less built up area around Ayr and Irvine if we hadn't needed to get to Ayr and we hadn't cut ourselves short for catching the ferry. NCR7 does follow the coast to Ardrossen which we would have followed but the signposts didn't really help us as to if it went in the direction we wished to go so rather than follow it and miss the ferry, we kept to the main roads. We hadn't pre-booked the ferry and it was no problem to just turn up with the bikes and jump on. We chose this route to avoid Glasgow as we had heard bad things about broken glass, needles and flashers on the route through the city – (these turned out to be true speaking to somebody in Glen Coe a few days later who had cycled that route!). Looking back on the trip the route from Carlisle to Aran and up the West Coast of Scotland to Glen Coe was a good choice for both the cycling and scenery.
The bike shop we stopped in at Ayr was a very helpful and friendly place. I can't remember what it was called but as you head North on the A road just after the bridge where NCR7 crosses it is on the left side of the road here.
Broddick (Arran) Ferry times from Ardrossen were as follows for summer 2003: – 0945, 1230, 1515, 1800. Fare was £4.70 plus £1 per bike. You must have a ticket and be onboard at least 10 mins before departure. (Caladonian MacBraine) Journey time is 55 mins.
Climbing Profile 
Kendoon SYHA to Ardrossen Ferry Terminal (55 Miles)

Isle of Arran, Broddick to Lochranza (15 Miles)

Statistics
| | | | | | |
| --- | --- | --- | --- | --- | --- |
| From | To | Day Distance (Miles) | Running Total (Miles) | Height climbed (Metres) | Height descended (Metres) |
| Kendoon SYH | Lochranza SYH | 70 | 724 | 1040 | 1203 |

Detailed Route Map
Directions
The approximate route we followed for Day 10 is listed below (1:50 000).
I used the Memory Map 1:50 000 Ordnance Survey electronic maps for route planning. Note: – Don't however buy their Adventurer GPS units as they are rubbish in my opinion.
Out of the SYH and turn L following B7000 until it meets the B729 where L. Follow B729 to A713 where R and follow to Ayr.
Pick up the NCR7 from Ayr that goes all the way to Troon, and onwards to Irvine and Ardrossen. (We didn't as the signing on the ground gave us no clues as to where it went!!) so we took the A road route to Ardrossen and the ferry port.
On the Isle of Arran follow the NCR73 which follows the A841 around the coast to Sannox and over the pass to Lochranza.