(Backwards to Day 10 or Forwards to Day 12)
LEJOG DAY 11 – Diary and Top Tips
On paper, today was our hardest day. Not only in distance but also in height climbed. We were up and out the youth hostel and down at the ferry terminal ready for the first (08;15) ferry of the day over the causeway to Kintyre. With the grey skies, the ferry bouncing over the slight swell and the drone of the diesel engine, our "Longest Day" would have been complete if we had landed on the beaches of Normandy.
Our cycle began with a steady 4 mile climb along a pleasant single track road. before passing over the top and down into Tarbert. The road between Lochgilphead and Oban was a bit of a rollercoaster ride, a series of long challenging hills but some very fast alpine-style descents which Keith and I especially very much enjoyed. We made good time with a slight tailwind enjoying the beautiful scenery and, unusually for A roads, a good smooth low friction cycling surface without the nuisance of lots of traffic.
As the morning progressed, the early morning greyness had gradually been burnt off by the sun. By the time we reached Oban at lunchtime it was hot. Very hot. Apparently 29C! It was clear that the heatwave that we'd heard about down south had reached us.
Climbing out of Oban and along the busy A85 in the afternoon was not much fun. Mark especially was suffering with the heat and counteracted his discomfort by steaming off at a cracking pace. Turning off onto the A828 to Glencoe was fortunately quieter and we enjoyed a superb scenic route along the Scottish Westcoast through to Glencoe. At the end of the day, despite 99 miles and nearly 9,000ft of ascent, we were not so tired as we expected and were in very high spirits now that our longest and hardest day was behind us. Having done that we could do anything We also completed this leg of the journey with our fastest daily average speed so far. 15.2mph!
TOP TIPS!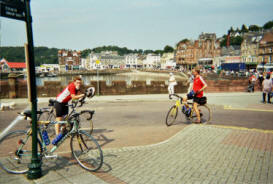 Food – Although travelling on a potentially very quiet part of the British Isles, we didn't really have any problems regarding food stops. We stopped for a brunch at Ardrishaig at a roadside café, and at Oban for our main lunch stop. Although Oban was busy, it was still a nice place and had plenty of options for lunch stops, including a large supermarket. After that we carried on all the way to Ballachulish where we stopped for a beer at the hotel bar just beside the bridge. There is a well stocked Spar shop in Glencoe and the YHA also has a range of provisions.
The Route – The route was excellent. The scenery stunning and the roads a nice combination of A road tarmac quality without the volume of traffic, or for that matter the steep ascents associated with lanes. This combination of the 2 probably accounts for why we hit out fastest average speed of the trip. The only stretch of road that was busy and not that pleasant was the A85 out of Oban to Connel. Once we turned off the A85 on to the A828, traffic died down significantly. A good day.
Climbing Profile

Statistics 
| | | | | | |
| --- | --- | --- | --- | --- | --- |
| From | To | Day Distance (Miles) | Running Total (Miles) | Height climbed (Metres) | Height descended (Metres) |
| Lochranza SYH | Glen Coe SYHA | 99 | 823 | 2717 | 2690 |
Detailed Route Map
Directions
The approximate route we followed for Day 11 is listed below (1:50 000). .
I used the Memory Map 1:50 000 Ordnance Survey electronic maps for route planning. Note: – Don't however buy their Adventurer GPS units as they are rubbish in my opinion.
Out of SYHA and turn L follow A841 short distance to ferry port. Catch ferry to Claonaig.
From Claonaig follow B8001 out of port over hill and turn R on to A83. Follow A83 through Tarbert, Ardrishaig, and just before Lochgilphead turn L on A816 past Bridgend, Kilmartin, Kilmelford, Kilmore to Oban.
From Oban follow the A85 through Dunbeg and L at Connel over bridge on A828 past Benderloch to Ballachulish where you join the A82 before turning L on local road into Glencoe and on to the SYH.