Day 13 – Loch Ness SYH to Carbisdale SYH – 64 miles
(Backwards to Day 12 or Forwards to Day 14)
Recommendations
An alternative accommodation stop to Carbisdale YHA is in Altnaharra. The Altnaharra Bed and Breakfast has been recommended in 2010 by Twitter users @cyclingbob1 and @cminors.  http://www.altnaharra.net/
For somewhere to eat at Bonar Bridge, there is the Crannag Bistro. No recommendations from End to Enders yet but they do offer End to Enders a free Dram!! The following description is from the owner Kathy Smith "Would you be kind enough to let everyone know about us please?  We are situated in the centre of Bonar Bridge, 7 miles from Carbisdale Castle (but only 3 as the crow flies and if you come via Invershin bridge!)  We are a small family run restaurant, 24 covers, fully licensed and serving honest
local fare.
Cyclists are always good fun and very appreciative!  So we are happy to offer lejogs a FREE DRAM from our local distillery, Balblair, after their meal."
LEJOG – DAY 13 Diary and Top Tips
Set off early to get most benefit from cooler temperature and traffic free roads. There was a beautiful sunrise over Loch Ness and at 6:30am the air was still (and midge free!). Leaving the shores of Loch Ness at Drumnadrochit, we climbed our steepest hill at 15% (1 in 6) gradient, but thankfully only for about a mile. The good thing about climbing is you always come down and we enjoyed a quiet gentle descent more or less all the way into Beauly. We stopped for a 2nd breakfast at Dingwall and then took to the hills again after Alness to avoid A9 traffic, providing us with a spectacular mountain road with stunning views over Dornoch Firth towards Bonar Bridge.
We arrived at Carbisdale Castle early afternoon after a jacket potato lunch at Ardgay, near Bonar Bridge, which gave us plenty of time to rest and chill-out. The castle is quite a building and difficult to believe it's a youth hostel! Unfortunately it is let down however by being very impersonal with under equipped and poor kitchen facilities which were certainly not good enough for 170 guests trying to self-cater!
TOP TIPS!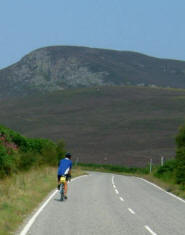 Food – Again plenty of food stops available today so no real problem. We stopped at a friendly café / chip shop at Dingwall and we also stopped at Ardgay for a lunch and beer in the pub. There is also a small convenience store at Ardgay where we purchased our tea. If staying at the YHA, try to avoid peaktime in the kitchen as it is very poorly equipped and you will be fighting other hostellers for cutlery, utensils and pans! The bike shed is downstairs in a locked part of the cellar.
The Route – We all enjoyed the route today. There was one incredibly steep hill of Cornwall and Devon proportions but longer as you join the A833. However the effort is very well rewarded as the road gently descend all the way to Beauly. The second climb past Alness to Bonar Bridge, is not as steep as the first climb and a superb very enjoyable part of the day. It probably ranks in the top 5 most enjoyable parts of the whole trip.
Climbing Profile

Statistics
| | | | | | |
| --- | --- | --- | --- | --- | --- |
| From | To | Day Distance (Miles) | Running Total (Miles) | Height climbed (Metres) | Height descended (Metres) |
| Loch Ness SYH | Carbisdale SYH | 64 | 953 | 1764 | 1741 |
Detailed Route Map
Directions
The approximate route we followed for Day 13 is listed below (1:50 000).
I used the Memory Map 1:50 000 Ordnance Survey electronic maps for route planning. Note: – Don't however buy their Adventurer GPS units as they are rubbish in my opinion.
Turn L out of Loch Ness SYH and continue along A82 until Drumnadrochit where L on to A831. Next turn R on to A833 and follow until R on to A831 into Beauly. Follow A862 through Muir of Ord, Conon Bridge and into Dingwall.
At Dingwall continue under railway bridge, the A road takes a sharp R and take the next L up a side residential road to join the minor road to Mountgerald Ardullie (runs parallel to A862), and into Evanton where it joins the B817 where L. Follow B817 until it joins the B9176 where L.
Follow B9176 (also NCR1) until it joins the A836 where L into Kincardine.
At Ardgay, take L along minor road and follow to Carbisdale SYHA.