Final Day, Day 15 – 
Tongue SYH
 to John O'Groats – 64 miles
(Previous Day 14)
We stayed at the Caberfeidh Guest House at John O'Groats. There was a Youth Hostel at John O'Groats but it appears this has now closed.
 LEJOG DAY 15 – Diary and Top Tips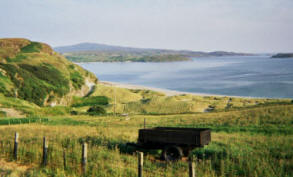 It seemed strange that having gone through various pain and psychological barriers, and that cycling for 6 – 7 hours each day was now our "days work", that today would be the last day. We'd been travelling fairly light for the whole journey but today with Glenis being a "support vehicle" we were able to offload everything except water bottle and puncture outfits. This made a huge difference but some of this advantage was offset by a strong Easterly head wind hitting us in the face for most of the day.
The first 35 Miles of the day's ride was along switchback roads across moorland like scenery, following the sand-duned coastline. The scenery reminded us very much of the north Cornwall coast around Portreath/Porthtowan/Perranporth/St Agnes. The remaining half of the ride to John O'Groats was flatter but not quite so scenic, especially past Doonreay Nuclear Power Station (apparently they have a good selection of luminous marker pens in their gift shop!).
Despite the headwind, we still made good time into Thurso. We stopped for our mid morning tea and cake in a very ordinary bakery before taking the road again for the final leg towards John O'Groats. To let our welcoming committee catch up, we decided to stop at a Pub in Huna for a quick pre-celebratory beer – just 6 miles from the finish.
We arrived at John O'Groats at 1:30pm and crossed the famous Start/Finish line to cheers, party poppers and bottle of bubbly from Glenis and the kids.
After the obligatory photographs we got talking to a small group of motorcyclists from Barnstaple in Devon. They were feeling proud having ridden their 1000cc motorcycles from Lands End to John O'Groats (with a support van) in 7 days. They were somewhat deflated when they asked what we'd been doing.
TOP TIPS!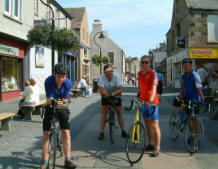 Food – We only stopped at Thurso for refreshments and the bakery we went too was very ordinary and not up to the standard we were used too.
The Route – The route was pleasant from a cycling point of view and scenery today – especially the part before Thurso. After Thurso although ok, it wasn't stunning. The big negative was the gale force head wind we had to endure, and I can imagine in bad weather, this section would be very bleak.
Detailed Route Map
Click here for detailed route map
Climbing Profile 
Tongue SYH to Reay

Reay to John O'Groats

 Statistics
| | | | | | |
| --- | --- | --- | --- | --- | --- |
| From | To | Day Distance (Miles) | Running Total (Miles) | Height climbed (Metres) | Height descended (Metres) |
| Tongue SYH | John O'Groats | 64 | 1066 | 1456 | 1474 |
Detailed Route Map
Directions
The approximate route we followed for Day 15 is listed below (1:50 000). For an electronic route that you can load on to a GPS or mapping application go to  GPS Waypoints.
I used the Memory Map 1:50 000 Ordnance Survey electronic maps for route planning. Note: – Don't however buy their Adventurer GPS units as they are rubbish in my opinion.
Out of Tongue SYH turn R (not L) and R again on minor road (and NCR1) that runs north alongside the kyle before beginning a gentle ascent of a hill before joining the A836 where L. Follow A836 through Strathtongue, Borgie Bridge, (still on NCR1), Bettyhill, Strathy, Reay, Thurso, Dunnet, all the way to John O'Groats.