Accommodation
Finding Accommodation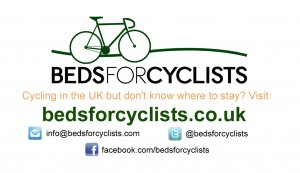 There are many businesses and individuals who offer accommodation options that could be useful to you whilst cycling the End2End. The options range from campsites,  Independent hostels, YHA and SYHA hostels, B&B's, hotel's and so on. What's available to you will depend on how rural your  route is and how many of you there are. I have had recommendations from individuals which I've listed to get you started, failing that it's a case of trawling the Internet.
Below I have given some links to sites that may help you in locating accommodation that best suits your needs.
The following have been recommended  to me by various individuals.  These are offered in good faith so please make your own checks before booking as I can't be held responsible if the establishment has changed hands or is now not what it was.
[table id=1 /]
YHA League Table, our own experience.
Please note, Chester YHA has now closed.
Well as we travelled the length of the British mainland, staying mostly in YHA, and SYHA as we went, I thought it would be a good idea to rate the hostels we stayed in using, what else, (as they seem to be all the rage in the Labour Government at the moment), but a League table.
I have marked each hostel out of 10 on the following factors: –
Welcome – How efficient were the wardens on our arrival, and how much of a welcome did we get.
Location – This is based on a scenic point of view so the country ones will score highly here.
Warden – Friendliness and general helpfulness of the warden(s)
Cycle facilities – How good were the cycle facilities from an undercover and security point of view
Self Catering kitchen – Was the kitchen adequately equipped
General – This is really how we felt about the hostel taking everything into account.
Rank

Hostel

Welcome

Location

Warden

Cycle

SC

General

TOTAL

1

10

10

10

8

9

10

57

2

8

9

8

8

8

8

49

3

10

9

9

6

7

7

48

4

9

9

6

8

8

6

47

5

6

9

6

7

8

7

43

6

5

8

5

8

7

6

39

7

Hostel now no longer part of YHA and "returned to landowner"

Alternative accomodation here

6

9

2

5

7

6

35

8

2

7

1

7

7

3

27

9

Hostel only opens during University holidays

4

1

3

1

9

3

21

10

Hostel now CLOSED

1

2

3

1

7

4

18

11

1

6

2

6

1

1

17
Comments
Very well deserved, Tongue is at the top of my league table here with both a stunning location and wardens who couldn't do enough for you, closely followed by Slaidburn, Bridges and Lochranza. Lochranza would have scored higher if it hadn't been for the warden's attitude who seemed to treat his guests like children.
Middle table Glencoe, Golant and Kendoon. Glencoe was just very busy, Golant suffered from lack of organisation and a very poor breakfast (I didn't have food as a category as the SYHA don't do hostel meals), whilst Kendoon being in a wonderful location suffered from a warden who had nothing to do and wanted to keep it that way.
Bottom of the table and up for relegation Loch Ness that despite being right on the shore of the Loch I rated low as one warden was disorganised , whilst the other treated the hostel as a prison camp and hence sucked out what atmosphere there could have been. Carlisle, very impersonal and in a noisy part of town and cycle security that didn't give us any confidence. Chester, again very busy and suffered particularly from lack of organisation (they gave us a key to somebody else's room) and catering staff who treated you like an inconvenience and couldn't wait to close up. Tough luck if you get there after 7:30PM! Carbisdale, what a shame! Could be the SYHA jewel in the crown but instead is suffering from lack of maintenance and hands on care of the wardens.