Accommodation
Lands End Accommodation – A personal recommendation
I have recently found a Hostel just 1/4 Mile from Lands End called, not unsurprisingly,  Lands End Hostel.
The Hostel is an independent hostel run by David and Susie and ideal for starting or finishing your ride. Its sleeps up to 12 in 3 x 4 bed dormitories, has a small fully equipped kitchen if you wish to do your own catering, and Susie will provide breakfast baskets should you want them. There is ample parking and a cycle shed.
I took the opportunity to visit the hostel on a recent trip to Cornwall and can confirm it looks superb. Spotlessly clean with a warm welcome. Feedback from travellers so far has been good so well worth considering.
At the time of writing (August 2011), a Costcutter convenience store and an excellent Fish n Chip shop are a short distance up the road in Sennen Village should you need to source your own food.  Feedback from End2Enders who have stayed there is that it is excellent!
They also have a cyclist toolkit that EndtoEnders can use for any last minute repairs or adjustments.
UPDATE – August 2012. David & Susie have now opened a B&B to add to the hostel accommodation. It is also immaculate and consists of a king sized bed, ensuite bathroom and small kitchen area with a fridge and cooker. Needless to see I decided to have a site visit and the same high standards are still in place.
Finding Accommodation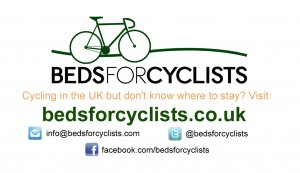 There are many businesses and individuals who offer accommodation options that could be useful to you whilst cycling the End2End. The options range from campsites,  Independent hostels, YHA and SYHA hostels, B&B's, hotel's and so on. What's available to you will depend on how rural your  route is and how many of you there are. I have had recommendations from individuals which I've listed to get you started, failing that it's a case of trawling the Internet.
Below I have given some links to sites that may help you in locating accommodation that best suits your needs.
The following have been recommended  to me by various individuals.  These are offered in good faith so please make your own checks before booking as I can't be held responsible if the establishment has changed hands or is now not what it was.
County
Area
Description
Contact Details
Comments
NATIONWIDE
Campsites
http://www.louisebarrett.co.uk/campsites.pdf
Louise Barrett used these sites on her team LEJOG in August 2011. In her words "None were rubbish" See Louise's blog
NATIONWIDE
Campsites
http://adventure-eyes.com/#/adventure-eyes-monster-ride/4554072314

The Adventure Eyes Team list of campsites they used on their August 2011 route. All recommended
ENGLAND LISTING
(South to North)
Cornwall
Lands End
Hostel and B&B
http://www.landsendhostelaccommodation.co.uk/

Ideally located at just 1/4 Mile from Lands End, David and Susie have just opened the Lands End Hostel.Susie says …. "To date we have already had small groups of cyclists use the hostel and the feedback from them has been quite outstanding. They also mention how good it is to be staying so near to the start or the finish….." As I was in Cornwall last week I visited Susie, David and the bunkhouse and can confirm it looks superb and indeed is as close to lands End as they say. Book in advance though as its already booking up fast! Highly recommended!
Devon
Okehampton
YHA
http://www.yha.org.uk
Dear LEJOGgersThis note applies to those arriving at Okehampton from the south! We understand that at some point in the future we may have equivalent good news for those arriving from the North, but not in 2013….If you're arriving at YHA Okehampton or YHA Bracken Tor and doing the LEJOG that you should take the Granite Way cycle path at Sourton (on old A30/new A30 interchange), as it avoids all the last few hills and takes you almost to the hostel door! The cycle path from Sourton has a good surface and is suitable for road bikes as well as mountain bikes, and the route follows the old railway line, so is fairly flat by comparison.We'll be upgrading our Cycle Storage Sheds over the winter (2012/13), to cope with the increasing demand from Coast to Coast and LEJOG/JOGLE riders passing through, but make certain that during the peak season you make a booking for the hostel, as it does get busy between May and July.Reception Team @YHA Okehampton and Adventure Okehampton
Avon
Bristol
B&B
Stablegrove B&B in Wrington south of Bristol http://www.stablegrovebedandbreakfast.co.uk/
"best B&B I've ever stayed at, thoroughly recommend it."LEJOG cyclist, David McCusker, Aug 2011
Shropshire
Wemm
B&B
Wytheford House, Fismes Way, WEM, Shropshire, SY4 5YD.Special LEJOG rate:- £22.50 p.p. with full continental breakfast tray (to include fresh fruit, yoghurts, cereals, croissant/rolls/toast/jams, fruit juice, tea/coffee).I will be very happy of offer a reduced rate for under 16′s staying with an adult/s.For further details or if you would like to book a room, please contact Frances through . (See Accommodation: Shropshire).Bedandfed advertise a variety of accommodation throughout the UK.www.bedandfed.co.uk
I personally stayed at Wytheford House in June 2012 and I found it to be comfortable, quiet and very welcoming. Frances went out of her way to make us feel welcome and we left with full stomachs following an excellent breakfast. Wem is a small North Shropshire Town and an ideal stop-over for cyclists and walkers or can offer a perfect base for exploring in all directions. You'll find peaceful countryside and a unique landscape of sandstone hills, meres and mosses and the four pretty market towns of Ellesmere, Whitchurch, Market Drayton (and Wem).The accommodation offers a large studio annexe room to the main house and has ensuite shower room, fridge, tv, complimentary refreshments, toaster, wi-fi and ample parking and bicycles can be locked up safely (and kit washed)!The room has one large double bed and two singles and is ideal for a family or for a group of friends sharing and are seeking a more affordable alternative.Wem has a range of local pubs and eating places. However, with prior arrangement, a delicious home-cooked dinner can be provided.
Shropshire
Longville in the Dale
YHA
http://www.yha.org.uk/hostel/wilderhope
"Impressive and great food" LEJOG cyclist, David McCusker, Aug 2011
Shropshire
Whitchurch
Campsite
http://www.milebankfarmbandb.co.uk/
Feedback from the Adventure Eyes team who stayed here in August 2011 is that the couple that run the Mile Bank farm campsite are planning to section off an area for LEJOG/JOGLE cyclists and erect a special signpost etc
Borders
Carlisle
Hotel
http://www.ibis.com/gb/hotel-3443-ibis-carlisle/index.shtml
"Good value" LEJOG cyclist, David McCusker, Aug 2011
Borders
Carlisle
B&B
01228 523500
Ashbourne House ashbournehouse@hotmail.com
http://www.ashbourneguesthouse.com
Recommended by Ian Shingler, Aug 2011. On main A6 into, and close to town, excellent value for money, lovely breakfast and bikes stored in locked rear yard
WALES
South to North
Wales
Chepstow
B&B
Nick & Jen
Chateau Terrace
46 bridge Street
Chepstow
Recommended by Ian Shingler, Aug 2011. Very friendly,lovely breakfast,great view of castle,over friendly dog plus bikes locked in basement
SCOTLAND
south to north
Galloway
Castle Douglas
Activity Centre
Galloway Activity Centre
http://www.lochken.co.uk/
Mongolian Yurt! … no really!
"Interesting!"LEJOG cyclist, David McCusker, Aug 2011
Dumfries
Kendoon
Accommodation and Refreshments
www.carricksofcarsphairn.com
No recommendations received as yet
Dumfries
Kendoon
B&B
Kirkholm and can be found via www.visitscotland.com
Linda Szafran says "We offer good food at reasonable prices, a cheery welcome and lovely scenery; more than enough to entice people in! People can ring in advance and book what they want to eat to save time when they land!!
Dumfries
Kendoon
Bunkhouse
http://www.lochken.co.uk/accommodation/lodge
As Kendoon YH is no longer owned by the SYHA and as far as I know has effectively closed, Dave Barker @cavingdjbarker (thanks Dave) has forwarded this link for alternative accommodation in the area
Highlands
Glencoe
B&B
Callart View
01855 811259 callartview@hotmail.com
Recommended by Ian Shingler, Aug 2011. 3 miles from the south Ballachulish. Fantastic value for money, will do evening meals, Lovely views, worth the detour
Highlands
Lairg
B&B
Ambleside
01549 402130 amblesidelairg@tiscali.co.uk
Recommended by Ian Shingler, Aug 2011. excellent, good value for money,did packed lunch for next day
Pershire
Stanley
B&B
Mhairi & David,
Dachaidh Mo Chridhe Guest House,
56 Perth Road,
Stanley,
Perthshire, PH1 4PB
Tel: 01738 829113
www.dachaidhmochridhe.com
Good feedback recieved from End2Enders"Dachaidh Mo Chridhe Guest House is a short drive from the City of Perth. Heading north, off the A9, just on the outskirts of the village of Stanley – ideal when travelling the A9, or alternatively the A93, through the Cairngorms. A variety of room sizes and features are available including en-suite bedrooms - 2 of which can sleep up to 3/4 comfortably, plus one single room, bathroom, wi-fi, freeview, a comfortable, warm guest living room, drying room, secure double garage for storage of canoes/bikes, a large garden and more. Breakfasts are legendary, and prices are very reasonable at Dachaidh Mo Chridhe, so make us your stop for the night!"We have many (understatement) 'tools', as David is an electrician, but no specific bike tools – we have found that the groups we have had are usually pretty organised in that respect though. The drying room has been much hailed as our guests have ultimately arrived soaked through… Cycling gear hangs in the drying room overnight and is dry and warm for next morning!
Sutherland
Inverness
SYHA (Privately owned)
Helmsdale SYHA
http://www.helmsdalehostel.co.uk/
"Best YH on trip"LEJOG cyclist, David McCusker, Aug 2011
Sutherland
Brora (A9 Borth of Dingwall)
B&B
Pandora's bed and Breakfast (next to Pandora's shop)
Victoria Road
Brora
KW9 6QN
01408 622562 pandorasofbrora@aol.com
Dale stumbled across Pandoras B&B on his LEJOG in March 2011. He says "Being early in the season most B&Bs were not open or full. We stumbled upon a small B&B (just 1 room with double & single bed). They were so hospitable and friendly. The beds were very comfortable – prob the best on the trip. The breakfast was what you would normally expect in a high class hotel rather than a £25pp a night B&B. Quite easily the nicest place you are likely to find.
Sutherland
Altnaharra
B&B
http://www.altnaharra.net/
Tripadvisor feedback An alternative accommodation stop to Carbisdale YHA is in Altnaharra. The Altnaharra Bed and Breakfast has been recommended in 2010 by Twitter users @cyclingbob1 and @cminors.
YHA League Table, our own experience.
Please note, Chester YHA has now closed.
Well as we travelled the length of the British mainland, staying mostly in YHA, and SYHA as we went, I thought it would be a good idea to rate the hostels we stayed in using, what else, (as they seem to be all the rage in the Labour Government at the moment), but a League table.
I have marked each hostel out of 10 on the following factors: –
Welcome – How efficient were the wardens on our arrival, and how much of a welcome did we get.
Location – This is based on a scenic point of view so the country ones will score highly here.
Warden – Friendliness and general helpfulness of the warden(s)
Cycle facilities – How good were the cycle facilities from an undercover and security point of view
Self Catering kitchen – Was the kitchen adequately equipped
General – This is really how we felt about the hostel taking everything into account.
Rank

Hostel

Welcome

Location

Warden

Cycle

SC

General

TOTAL

1

10

10

10

8

9

10

57

2

8

9

8

8

8

8

49

3

10

9

9

6

7

7

48

4

9

9

6

8

8

6

47

5

6

9

6

7

8

7

43

6

5

8

5

8

7

6

39

7

Hostel now no longer part of YHA and "returned to landowner"

Alternative accomodation here

6

9

2

5

7

6

35

8

2

7

1

7

7

3

27

9

Hostel only opens during University holidays

4

1

3

1

9

3

21

10

Hostel now CLOSED

1

2

3

1

7

4

18

11

1

6

2

6

1

1

17
Comments
Very well deserved, Tongue is at the top of my league table here with both a stunning location and wardens who couldn't do enough for you, closely followed by Slaidburn, Bridges and Lochranza. Lochranza would have scored higher if it hadn't been for the warden's attitude who seemed to treat his guests like children.
Middle table Glencoe, Golant and Kendoon. Glencoe was just very busy, Golant suffered from lack of organisation and a very poor breakfast (I didn't have food as a category as the SYHA don't do hostel meals), whilst Kendoon being in a wonderful location suffered from a warden who had nothing to do and wanted to keep it that way.
Bottom of the table and up for relegation Loch Ness that despite being right on the shore of the Loch I rated low as one warden was disorganised , whilst the other treated the hostel as a prison camp and hence sucked out what atmosphere there could have been. Carlisle, very impersonal and in a noisy part of town and cycle security that didn't give us any confidence. Chester, again very busy and suffered particularly from lack of organisation (they gave us a key to somebody else's room) and catering staff who treated you like an inconvenience and couldn't wait to close up. Tough luck if you get there after 7:30PM! Carbisdale, what a shame! Could be the SYHA jewel in the crown but instead is suffering from lack of maintenance and hands on care of the wardens.