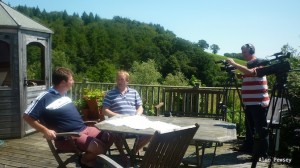 I have been interviewed for a new DVD which is due for release next year.
I have been interviewed before for LEJOG, but only via email and no video involved. Graham and Will travelled down from Newbury on a warm and sunny day to my home in Devon. Graham is no stranger to the media industry as its his day job. Hence my expectation of a small video camera from Comet and a dictaphone was rapidly dismissed as Graham unloaded various broadcast quality cameras, tripods & sound equipment from his car and set them up in my back garden.
Graham's first End to End DVD is available on my online store. A link to it is below.
Land's End to John O'Groats – A cyclist's guide